Hanoi's expat and Vietnamese chefs turn the town international
By Karen Mitchell
Camera Staff Writer
---
HANOI — It's a long ride from the sugary symmetry of beignets served on New Orleans finery to the steaming white-hot swirl of a banh bao chay (rice bun) negotiated for pennies from an alley stall in midnight Hanoi. Jeff Richardson has made the trip his own.
At 39, Richardson is the creator and proprietor of Hanoi's Moca Cafe, a full service cafe known for its fresh roasted Vietnamese Arabica coffees and an abundant hybrid menu where Banana Pancakes, Pasta Bolognaise, Chicken Tandoori, Salad Nicoise and Vietnamese Claypot Fish coexist in culinary harmony. Part haven, part hangout, Moca is a creature comfort zone far from home, but nothing like it.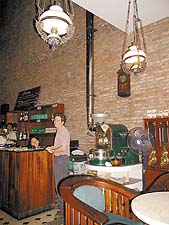 Jeff Richardson's vision of his Moca Cafe in HAnoi included a wall of 100 year-old French brickwork, Dutch-Javanese lamps, and 80 year-old French, English and Italian fans.
Photo by Karen Mitchell/Daily Camera
For many Hanoi expats, travelers, and local Vietnamese, the bay-windowed caf with the loft is a constant, a place to center oneself in this small but burgeoning universe of a food scene that started to blossom following Moca's opening in 1997. One returning expat reportedly chose a rental house based on its proximity to Moca.
"Hanoi is turning into an international food town," Richardson says. "The rush is on. There's a lot of great Italian food, and the French food has gotten a lot better with the addition of restaurants such as Caf des Arts de Hanoi (a Francophone favorite)."
Vietnamese specialties such as regional dishes from Hue, known for its spicy tastes, are popping up on Hanoi menus. Cha ca, a sauted fish dish, is also very popular. A version offered at the balconied bistro, SOHO, is finished tableside, sauted with dill and spring onions.
Like many of Hanoi's chefs and restaurateurs, Richardson's career sojourn began long ago and far away. "I was a runner at Commander's Palace in New Orleans, at the tail end of chef Paul Prudhomme's reign," he says. "I learned all the stations of the kitchen. After six months they asked me to be a kitchen captain or a waiter; I asked a waiter how much he made, and when he said about $500 a night, I became a waiter and worked the front for a year."
He hadn't been particularly enthralled with cooking, or eating, Richardson says, until he was 12, when his stepmother introduced him to her Lafayette, La., Cajun repertoire. And taught him to cook.
"She made the best chicken and sausage gumbos, crawfish bisque, macque choux, (faux cabbage made from corn), etoufee and wild venison and duck," he says. "In our house, if you cooked, you didn't clean. Cooking was meditative for me."
At college in the Florida Keys, Richardson studied environmental science and cooked regularly, flying home with lobsters and stone crabs to throw a famous yearly feast. In 1985, he left for Australia to study tropical marine biology, arriving in Port Douglas, a fishing village in far north Queensland, where he had a close encounter of the unpleasant sandwich kind.
"I stopped at a roadhouse where the food was all deep-fried," he says. "They had roadhouse snags (sausages), dinkum rolls (eggrolls), kangaroo meatpies, and chook (broiled chicken). I didn't know what to order so I asked for a hamburger and got ham on a bun. I left a nice tip and the waitress followed me outside and threw the money on the ground and said, 'I don't need your bloody handouts, mate.' I realized then it was a good thing I could cook."
And cook he did, every night for the next seven years, in Australia, the Palm Islands of New Guinea, and on Taliwang, an island east of Bali where the Sasaks people made a spice from 150 different plants of the rainforest.
"They showed me another way of cooking," Richardson says. "They made the equivalent of a 'snake oil', used for massage, for stomach pain and for cooking chicken."
A 1994 Hanoi visit, the catalyst for the Moca, introduced Richardson to Binh Truong Viet, his business partner. "Binh was thinking of opening a tour company, and he said he was upset seeing some foreigners leave Vietnam early and angry at the lack of electricity, running water or available places to eat," Richardson says. "He was interested in fashion, football, and Indian food. I had discovered Indian food in Australia, and suggested we open a restaurant."
They looked at 35 buildings before discovering the Moca's fortuitous location on Nho Tho (Church Street), on the edge of Hanoi's Old Quarter. The building had a van parked inside. Upstairs was a clothing factory packed so high with ticking, Richardson couldn't even see the women working there.
"I immediately started to make design drawings for the cafe, and when I stepped outside, the bells of St. Joseph's Cathedral (the nearby 1886 French cathedral built on the site of the Ly Dynasty Pagoda) were ringing and I knew this was the place," he says. "I had the old Chinese tile floor reproduced and I had teak chairs done in Italian-Balinese style."
The original Moca fare included Creole French but Richardson soon tired of trying to teach the subtleties of that cuisine to his Vietnamese chefs. "We do Chinese, Indian, Vietnamese, French and Western food, to appeal to customers from anywhere in the world," he says. "This place is special; it's a refuge from the busy scene on the street."
During the November Hanoi visit by the first family, Richardson was told the President would be coming into the Moca for some coffee, but the visit was made impossible by the throngs on the street.
"He (President Clinton) was surrounded; he was like a rock star out there and they couldn't get him through the crowd into the cafe," Richardson says. "Then Chelsea came in with her secret service escorts and we made a table for her at the back, away from the windows. I served them all coffees of their choice. Chelsea was exhausted, and very nice, and I gave her two double cappuccinos.
"We've had a lot of famous people in the Moca," he says, "but it was a thrill to have her here, and I hope it's a portent of good things to come in the future in Hanoi."
California dreaming
With a personal geography that could dazzle a cartographer, and California cuisine infused from deep reserves of culinary influences, Bobby Chinn may be the consummate American chef.
The 36-year old executive chef commands the kitchen of Hanoi's Red Onion Bistro, a fourth-floor restaurant (with views) in a high-rise built on the site of Hoa Lo, a.k.a. the Hanoi Hilton. The prison was built by the French, but later housed such well-known Americans as now-Sen. John McCain, and current U.S. Ambassador to Vietnam, Pete Peterson. Chinn's clientele includes Western and Asian expats and Vietnamese.
Born in New Zealand to a Chinese father and Egyptian mother, Chinn has put California on Hanoi's culinary map with a self-confident menu on which The BLT with French Fries is listed right up there with Lamb Tenderloin with Terrine of Vegetable Provencal Confit and Kasu Marinated Seabass on Pumpkin Greens with Beet Jus Lemon Emulsion.
"Hillary (Clinton) came here and had a tasting of our Asian appetizers such as Chicken Satay Balinese Style, and she also had the Scented Asian Flan with Lemon Zest," he says.
Educated in England and the United States, Chinn is generally considered the first true fusion chef in Hanoi, combining Chinese and North African influences with standard Vietnamese and California fare. The deep well from which he draws includes California basics such as American, Spanish, French, Mexican and Japanese cooking.
"My Chinese grandmother, from Shanghai, was an amazing cook; her sauces were so light," Chinn says. "I make her Minced Chicken in Lettuce Cups and some of her sauces. I also make my Cairo grandmother's Bastia, pigeon pie. It's learning to make these things where all the memories come in."
But Chinn serves lots of American fare, too. "There are a lot of Western expats here to whom I sell a lot of burgers," he says. "That's a base market for us. Most East Asian expats eat at home. And when they go out to dinner they want something they can't get anywhere else."
After working briefly in the world of international finance — both his parents are money managers — Chinn took a friend's suggestion and started selling Prince Edward Island mussels and oysters to upscale New York eateries.
"I educated myself on these products and I started to meet some of the top French chefs including Daniel Boulud, and Anne Rosensweig of Arcadia," Chinn says. "They each had different ideas about what to do with this seafood. Anne Rosensweig offered to let me volunteer in the Arcadia kitchen, but I was afraid I'd fail."
Chinn headed to the West Coast where he got into standup comedy and improvisation. "I got a job as a waiter at a Japanese hotel in San Francisco," he says. "I started hanging out in the kitchen learning to do French-Japanese food."
In 1995, Chinn headed to Saigon, where his father was living. "I hated the food but I knew that Vietnam was going to be huge," he says. "I decided this would be a great place to fail. So I went back to San Francisco and got an education by working in the pantry at the Fleur de Lis. There was no talking allowed in the kitchen but I was learning to do foie gras and terrines."
Stints as a supper club butcher and as a saucier provided more training, and taught Chinn to value the "little things, the thrill of getting the most out of the meat you're cutting," he says.
Chinn returned to Vietnam in 1996 as a chef in Saigon, trying to churn out French cuisine on four burners and in a rudimentary oven. When the Red Onion's Singaporean owners asked him to open the restaurant for them, with a much more modern kitchen, he agreed.
"Training the kitchen staff from scratch and dealing with suppliers can be very frustrating," Chinn says. "Our seafood is local and sometimes I can't get prawns for three weeks. When I ask, they say, 'a storm,' or 'supplier forgot.'"
Chinn wants to remain in Asia, using the Red Onion as a stepping-stone to Saigon and eventually, San Francisco restaurants. Currently he has facelift plans for the large but rather bland Red Onion space, which he will rename, probably Bobby Chinn's.
"This market used to be more forgiving," Chinn says, "but it's become competitive and demanding, even a little ruthless. Hanoi is a small community of expats, and if you blow it here, you really blow it."
All in the family
Not all of Hanoi's popular dining spots are run by expats. At 32, Vietnamese restaurateur Pham Quang Son has been in the business for nearly a decade. Pham and members of his family own several well-known dining spots in Ho Chi Minh City (Saigon) and Hanoi.
The latest, and Pham's personal design project, is the Emperor, a stunning Vietnamese restaurant with an indoor, villa-style, formal dining room and more open dining areas and a bar in the Indochine style.
"I used to work for the French Embassy and went out to eat a lot," Pham says, "but there were not many places to take embassy guests. Just a few restaurants."
A building boom in the early 1990s brought a lot of construction to Hanoi, but Pham was tired of concrete structures and indoor restaurants. The open-air Emperor, with its woods and red silks, took a year to complete.
"I based it on traditional Vietnamese architecture," Pham says. "Westerners often confuse that with Chinese style, as they do the two cuisines. In traditional Chinese design there are heavy dark colors. Vietnamese style is lighter "it all connects to the climate and lifestyle."
Foreigners tend to confuse the typically lighter Vietnamese fare with heavier Chinese foods as well, he says. "Even in our beef or fish dishes there are no heavy sauces."
Emperor signature dishes include Fried Soft-Shell Crab with Onion, Steamed Garroupa with Slightly Dark Sauce, and appetizers such as Hue Spring Rolls, ("so light you can taste spring") and Hue Pancake with Minced Shrimp.
"I'm not a chef but I can taste my ideas and ask my chef, who is Vietnamese, to prepare the food my way," Pham says.
Chelsea Clinton also visited the Emperor during her Hanoi visit. She and her party sampled various Spring Rolls, a Vegetarian Clay Pot, and Sauteed Bean Curd with Ground Meat.
"Vietnamese cuisine is getting to be internationally fashionable," Pham says. "It's a new taste and I think it will become as popular as French, Thai and Indian food. In Vietnamese food there are so many tastes in one dish."
"Clay Pot Catfish is best if cooked in a clay pot with a fitted top or a fire resistant casserole dish and cover, and cooked directly on the burner," writes Chef Jeff Richardson. "It should acquire a slightly smoky taste but only if you are very keen when you add the water to the caramelizing sugar — just before it burns would be the trick! Be careful if you're seeking authenticity here though. There is nothing worse than burning a beautiful fish fillet and this dish won't pass for Blackened Catfish. The best clay pots are terra cotta on the outside and have a glazed interior as used for many traditional Mexican dishes. Just don't burn your dining room table in the excitement of serving it!
Clay Pot Catfish
1 whole boneless filet of catfish, about 2¼ pounds, cubed into 1-inch pieces
2 garlic cloves, chopped
1 hand ginger, chopped
3 stalks lemongrass, chopped
2 whole red chilies, chopped
3-5 green onions, chopped
7 ounces bacon, pork or chicken skin, cubed as fish
Dash Chinese soy sauce
2 teaspoons fish sauce
1 or 2 pinches salt
1 tablespoon brown sugar
1 tablespoon black pepper or to taste
½ cup water
Directions: Saute on high heat (preferably in a clay pot on the stove burner) cubed catfish, garlic, ginger, lemongrass, bacon (or substitute), chili, soy sauce, fish sauce and a pinch of salt. It is not necessary or preferable to completely cook the fish pieces at this point, the very high heat is simply to brown the outside of the catfish. Also be careful not to overstir and break up the catfish pieces. When fish has lightly browned on the outside, add brown sugar to glaze the catfish pieces. They will caramelize in the pot. It is not necessary to stir everything in order to coat it with the sugar. When the sugar has liquified or melted, at around one minute, add water and cover on medium heat for 10 to 20 minutes or until almost all of the water has boiled off. This will coat the fish and finish cooking the fish for you. The Vietnamese often cook this dish for a long time, about 30 minutes, cooking the covered fish until it is overdone and until the fish turns softer again. The long cooking actually gives the fish a unique texture that compares to well-cooked pork. Westerners tend to like fish that is cooked to well-done but not overdone. Before serving, add:green onion, black pepper and salt to taste. Serve with steamed rice or sticky rice and any simply prepared vegetable of your choice. Lightly steamed spinach or kaoli is a nice contrast. A hearty white or even a heavy red is fine but an icy cold beer cuts this dish very well. Makes 4 servings.
This recipe is from chef Bobby Chinn.
Tamarind-Glazed Crab Cakes with Chive Flowers
For the tamarind sauce:
¼ block of tamarind paste (see note)
½ cup of water
sugar to taste
For the crab cakes:
½ pound scallops
¾ cup cream
1¼ pounds crab meat, shredded and very well-drained (see note)
2 tablespoons minced cilantro
2 tablespoons minced shallots, sauteed in a little oil
2 teaspoons shichimi togarashi (Japanese seven-flavor pepper) or a few dashes of Tabasco sauce
salt and pepper to taste
oil for sauteeing
For the asparagus:
3 cloves garlic, crushed
2 bunches asparagus, blanched and cut into 1-inch pieces
For the garnish:
2 bunches trimmed chive flowers, if available
Directions: In a small saucepan, cook tamarind paste in water. Strain through sieve. Add sugar to taste. Sauce should be sweet and sour.
For the crab cakes, puree scallops with cream. Fold scallop puree into crab and mix. Mix in cilantro, sauteed shallots, shichimi togarashi or Tabasco, sesame seeds and salt and pepper. Divide the mixture into 8 cakes using a ring mold or an 8-ounce can with both ends removed.
Lightly coat a nonstick pan with oil and heat over high heat. Place crab cakes in pan, reduce heat to medium and cook 4 minutes until underside is lightly browned. Reduce heat to low and cook 5 to 7 minutes more. When they are done, crab cakes will spring back when pressed lightly.
Once you flip the crab cakes, finish the asparagus. Lightly coat a non-stick saute pan with oil. Heat oil, add crushed garlic, then saute. Sprinkle with salt and pepper.
To serve, place asparagus in center of plates. Place a crab cake on top of asparagus. Rub a little tamarind saude on top of each crab cake. Drizzle sauce around crab cake. Garnish with chive flowers.
Note: Blocks of tamarind paste are available at many Asian markets.
Chinn uses the local crabs known as mud crabs, but Dungeness crab will work well, too, he says. Chinn steams the crabs in sake with ginger and garlic for 35 minutes and lets them cool. The juices are used for corn crab soup. If you use frozen or canned crab, wring out excess moisture by twisting crab meat in kitchen towel.
January 3, 2001
---
Copyright 2000 The Daily Camera. All rights reserved. Any copying, redistribution, or retransmission of any of the contents of this service without the express written consent of The Daily Camera is expressly prohibited. Users of this site are subject to our User Agreement, you may also read our Privacy Policy. Comments? Questions? Suggestions? E-mail us at webmaster@prettygoodwriter.com. Click here to contact Daily Camera staff.