Howard's store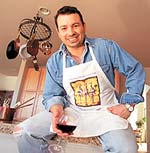 How Howard Treppeda ended up serving East Coast Italian food in Niwot
By Karen Mitchell
Camera Staff Writer
---
At 37, Howard Treppeda is the chef/proprietor of Treppeda's Gourmet Market Cafe, but he prefers to call it "the store." Located in Old Town Niwot the store is open seven days a week from 10 until 5, serving traditional foods that have been around — lasagna, sausage and peppers, and an infinite variety of chicken dishes. There is no plate painting and no infusion of oils, just a hearty infusion of Treppeda's culinary style and taste, culled from a heritage of regional Italian cuisines, an East Coast upbringing and world travel. He talked recently about his circuitous route .
Antipasto:
"I grew up in Wappingers Falls, in the Hudson Valley. Both sets of grandparents came from Italy, and my parents met in New York City. My Dad, Eugene Treppeda was a jazz musician and a contractor from a Sicilian family. My mother, Elda Treppeda, comes from a northern Italian background, from Piedmonte."
From the north: "As a kid, whenever I went to the home of my maternal grandparents, Filomena and Brandolino Ciccone, I sat at the table, prim and proper. I used a butter knife and a jam spoon, and there was never a milk carton on the table. My grandmother's cheese ravioli's were always big and perfect — with the sauce strained. She always had breadsticks on the table."
To the south:
"At the home of my father's parent's, Peter and 'Kate' Treppeda, it was very different. I could climb on everything in the house. My grandmother put everything into her soups, and she cooked lots of fish and meatballs. They lived close to the Long Island Sound and my uncles, and sometimes my father, were fisherman. Every Sunday we'd go there or to a cousins and we'd all be out back. The food was served Sicilian-style, all in platters and very casual. I loved the gnocchi's and my grandmother's great soups like her 'Firehat Soup' with cappeletti."
Sole food:
"I was never allowed in the kitchen, although in high school I worked in pizzerias making calzones and pizzas and deli sandwiches. My two older sisters helped cook at home. My mother made nice sole, beautiful raviolis and a good meatloaf with marinara. My father made very thick ragu sauces — he put snails in his sauces. He always wanted me to drink beer while I ate. He'd say, 'I never met a kid who didn't like beer.' I only knew Italian food."
Sound eats:
"I used to go fishing with my father and uncles in the Long Island Sound. We dropped a line, and whatever we pulled up, we'd take home to cook — striped bass, flounder, and mussels pulled from the Scotch caps (rocks) at low tide. We'd have a huge clam bake in the back yard with live music. Everyone ate off the cutting board. That was the way good friends ate, my father said. When he died, in July, 1993, I found a fisherman, an Irish cop, to take me out into the Sound so I could scatter the ashes. As it turns out, the cop had known my family."
Lunchbox:
"I moved here in the early 1980s, following my sister, Phyllis Farlow, who came here with IBM. My other sister, Kathy Tancredi, lives in Niwot, and my brother, Geno Treppeda, is a drummer in Boulder. Even my mother lives in Niwot. I worked at Contemporary Comfort building furniture and my mother made my lunches — eggplant parmesan, pizzelles, lemon sole, Dover sole and, depending on the holiday, I also got Easter cakes, some Sicilian and some Northern. They nicknamed me 'Lunchbox.' I always brought extra. They didn't know from ethnic food — Entemann's wasn't even here then."
Food and women:
"I decided I wanted to be surrounded by women so I went to work at Lucile's, for the chef, Mickey Samuels. I said I'd do anything and I started as a dishwasher. All of a sudden I was working with croissants and then he turned me on to New Orleans Cajun cooking. Mickey was regimented and he taught me food costs and how to follow recipes. I stayed for a year and took off to be a ski bum at Club Med at Copper Mountain. I worked there under some French chefs and learned classical French cuisine and presentations. We cooked for up to 500, and I realized I wanted to think seriously about food as a career."
To the sea:
"While I was on the train to visit my father for Christmas I was talking about skiing and cooking, and this guy introduced himself to me and said, 'I own DaMarco's restaurant on Nantucket.' I called him and spent a year as a sous chef there learning more about Italian seafood. Then I ran a restaurant in New Milford, Connecticut, but I missed the mountains."
Mrs. Treppeda:
"I went to my tenth year high school reunion in 1991 and met my wife, Margot. I had known her in school but I had another girlfriend. Margot was now working on Wall Street, so I took her to Colorado on a ski hut tour and we were married in 1993. We have two kids, Brianna, 4, and Marco, who is 8-months old."
Food travels:
"I started back in food here by working for Paul LoNigro (of What's Up and Ristorante Paolino fame) at a corporate kitchen. Margot got transferred to Holland in 1994 so we moved to Amsterdam and within two weeks I was working as a sous chef in classical French cuisine. I met my good friend, chef Caspar Burg who taught me how Europeans look at food. I took a class in Paris at the Cordon Bleu, and Margot and I had the chance to travel. We spent weekends in open-air markets and little markets in Italy, Spain and Belgium. That's how I got the idea for the store."
Front of the counter:
"After we moved back to Boulder in 1995 I was working for John Bizzarro (chef/owner of John's Restaurant). I went to the Aspen Food and Wine Classic, met an olive oil rep and decided to get out of the back of the kitchen by selling olive oil. But I didn't want to knock on doors — I wanted people to knock on my door. There were no markets where you could get good olive oil and good food. Then, Gil Reed, a developer, told me to take a look at a building in Niwot. I've always loved Niwot and I fell in love with his drawing. I wrote 'MINE' on the spot where the store is and I opened June 1, 1996, on my birthday, as a market and sandwich store. Niwot was just starting to come alive, and what's a cute antique town without good food. Now I do corporate and private catering and I still carry some retail items."
Favorite food book:
"Last year I took a class at Zingerman's Deli in Ann Arbor. Their book is my Bible. It's all about how they started and how they implement their ways of running a business. They do $11 million with a deli, corporate catering, a bakery and produce store and by mail-order."
Food roots:
"When my family came over from Italy they struggled so hard to become Americans. I struggled to find my roots as an Italian. When I was growing up I didn't know Italians were a minority. When I moved out here, I realized the other Italians didn't even know what baked ziti was."
Dislikes:
"I don't like organ food. I don't like a tongue sandwich. Although, if I were to be served a nice sweetbread as an appetizer, I might like it. I don't' really hate any foods. I like most things, even a good grilled cheese sandwich."
Food loves:
"I like osso bucco, veal shanks. The comfort food I love is the whole package — when everything goes together from the food to the company to the wine. The people have to great. There's an expression that says something like, 'Sicilians build like it will last forever and they eat like there's no tomorrow.'"
Food peeve:
"I don't like it when you go into a restaurant and nobody there cares about the food — when they don't appreciate what they're giving you. Even if they're serving you just a cup of coffee, it better be a damn good cup of coffee."
Going out:
"Right now, we mostly go to kid-friendly places. I like the Friday Mariachi Nights at La Familia Restaurant in Lafayette. In Denver, I like the Aubergine Cafe's risotto and their linguine with clams. And Il Fornaio in Denver is very good, with a real metropolitan setting."
Favorite waiter:
Alfred Shock at the European Cafe in Boulder is the ultimate waiter. He gives you the full package — he's efficient, educated and friendly. Just don't be rude."
Hobbies:
"I like to ski and I love to garden in my backyard. My dream to put a bocci ball court back there."
Favorite utensil:
"My Sicilian grandmother's sauce pot. I use it at home and I think of her when I use it. I even have pictures of my father cooking for two with it filled to the top."
Fantasy dining:
"If I could have any meal, with anyone, anywhere, it would be at the store. All four of my grandparents would be there, and I'd serve them a little from the South, a little from the North. I'd give them the happy medium that they gave to me."
March 8, 2000
---
Copyright 2000 The Daily Camera. All rights reserved. Any copying, redistribution, or retransmission of any of the contents of this service without the express written consent of The Daily Camera is expressly prohibited. Users of this site are subject to our User Agreement, you may also read our Privacy Policy. Comments? Questions? Suggestions? E-mail us at webmaster@prettygoodwriter.com. Click here to contact Daily Camera staff.