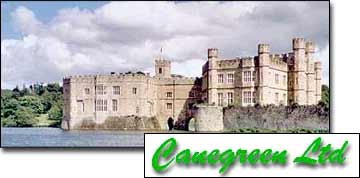 Perfect Day Perfect Nights
Van Morrison and Tony Bennett at Leeds Castle
By Karen Mitchell

Kent, UK - A late spring rain, and plenty of it, did little to dampen the enthusiasm of fans or the "Perfect Day" spirit at a pair of spectacular outdoor shows held at Leeds Castle in Kent, about 60 miles east of London.

Shrouded in mist and lore, the former home to six medieval English Queens hosted close encounters with royalty of the musical kind as Van Morrison and Tony Bennett took the stage on May 27 and 29, respectively. Morrison played to a sold-out crowd of 15,000, while Bennett wowed 6,000 fans in a show telecast live on BBC Channel One as part of the BBC's "Perfect Day" broadcast extravaganza.

London-based audio reinforcement company Canegreen Ltd., contracted by concert promoters Kennedy Street Enterprises, provided audio for the series. The main PA system consisted of four Meyer Sound DS-4Ps (the new horn-loaded two x 12-inch loudspeaker) on each side and 20 Meyer Sound MSL-4s per side, an all self-powered Meyer Sound system.

"The DS-4P's were nice! This was the first time we'd used the DS-4P in an outdoor application," said Canegreen Managing Director Yan Stile. "Apart from the obvious size differential with the DS-2P, we found the DS-4P to be more generally rounded."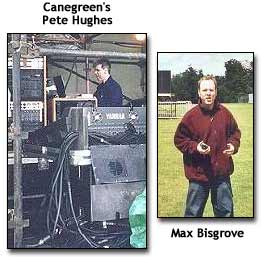 Other equipment for the dual shows included a Yamaha PM4000 and Klark Teknik equalizer and analyzer. Delay positions on eight by four-foot platforms, each carried four Meyer Sound MSL-3s, chosen for their horizontal dispersion characteristics. A BSS Soundweb 9088 with 9088 system remote control handled control of each system.
"When I visited the site in January and looked at the big open field - about 120 meters from stage to back and at least 400 meters wide - I was concerned about a left and right system," Stile said. "The only way to really cover that distance is to fly left and right. To have it out in people's faces, you need to fly it or you'll hurt people in the front. The promoter didn't want to fly because of budget.
Stile decided an evenly distributed system with several smaller delay systems was the way to go. "We put in four delay systems," he said, "and as I walked around the field there was a glorious sound, left and right. Wherever you went there was really good sound."
Pre-production meetings with Kennedy Street's Production Manager Jim Colson had covered most angles, but no one could have imagined just how much rain could actually fell out of the sky, said Stile.
"Load-in for sound was on Friday, May 26, at mid day," he said. "I got there around 6 p.m. and it had rained constantly since lunch time with no sign of stopping, although it did get heavier."
The skies darkened further, still only broken by the odd crack of lightning which somehow brought the old castle to life as if it was the setting for a horror film, Stile said. But somehow, his "Canegreen Dream Team" of chief sound technician Pete Hughes, house controller Max Bisgrove, Ian Newton on monitors, and stage manager Paul Timmins, had managed to get the system up and wired.
The site is basically flat and much wider than it's depth, Stile said. "Earlier production meetings had already determined that we'd go for a left, right and three delay position system set up. At load-in, Max (Bisgrove) decided to pull four MSL-4s from the main system and add a stage right outfill some 50 meters outside the stage right main system and delivery stage left source. It proved to work very well for both shows."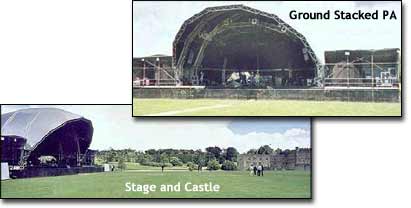 As the Canegreen team wandered the damp field checking delay lines, Bisgrove played "Perfect Day" over the PA. "Morale was low and I remember the guys discussing the inaccuracies in long-range weather forecasting," Stile said. "As I left, Pete Hughes asked me to bring him some Wellington (rain) boots for the next day."
Bisgrove did a fine job of mixing Chris Farlowe (who opened the Morrison show) on the 24-channel Amek Recall 501, working the crowd into a frenzy, Stile said. "Monitors for the show were mixed from stage on Van's (Midas) XL3 by Damien Hughes, Van's monitor man."
Mixing house for the dynamic Morrison show was Dave Wooster, who was a bit nervous, Stile said. "He needn't have been. Within two numbers (remember that Van didn't sound check) he had full control of everything coming off that stage. This was a controlled yet dynamic mix enhanced by the Meyer loudspeaker system. A complete walk of the field showed no obvious holes or nuances, but more of an even and balanced coverage to all pairs of discerning ears."
Leeds Castle sat to the extreme of stage left. It's imposing historical presence served a purpose its Saxon builders could never have envisioned in 857 AD: The castle provided an elegant backdrop for the two shows without compromise via audio slapback.
"People don't really know when they're listening to good sound," Stile said. "But they know when it's bad sound. When the sound's been good, they leave smiling and happy and cheerful; when it's bad they're miserable and don't know why. After the Van Morrison show, they left very happy."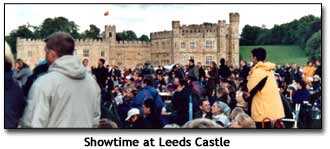 The configuration for the Morrison concert was left -as is- for Tony Bennett's performance two nights later. "The Meyer system is great outdoors," Pete Hughes said. "Even stacked up, it was smooth with even coverage, an excellent all-around system."
Bennett's engineer, Tom Young (known as well for his work with Frank Sinatra), asked Hughes to change a little of the EQ for the show but the system remained the same. Bennett's show, for which Roger Lindsay (George Michael and James Taylor) watched over front of house, included performances by Diana Krall (with whom he is touring this summer) and by the New Youth Jazz Orchestra.
"I used the MSL-4 last summer as well," Young said, "and I've been pleased with it. I love the self-powered box; this is the direction that these kinds of speakers are going to in the future."
The Leeds Castle setting, Young added, was "perfect" for the show. "It's a beautiful venue with the castle in the background, sitting in the middle of a lake. We had a good show."
Young was monitor engineer for the show as well, Hughes said. "Tom did monitors from the FOH, using four MSL-2s, hung in the four corners of the stage. There were two UM-1 wedge monitors on either side of the down stage edge. Krall's engineer also did monitors from the house using the same monitors."
The stage for both Bennett and Krall were mic-ed with just a few "quality" mics, Hughes said, giving the concert the ambient feel that the jazz world so loves. "With the system EQ left from the Van show, Tom managed to get that feel across beautifully with an excellent sound," Hughes said. "The slight breezes that we had had earlier in the day died away and so the coverage for the crowd was smooth and even."
Krall's show, he said, had a mishap when one of the piano channels was lost, possibly due to dampness, but the engineer managed to get a better sound with one Barcus Berry 4000 mic than with the two he had used at sound check. "He had it mounted just like an overhead over the open top of the piano," Hughes said. "It sounded excellent, and as you know it can be very difficult to get a good piano sound live with just microphones."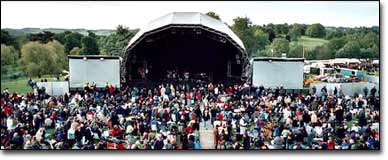 The jazz concert was part of the BBC's "Music Live" extravaganza in which the BBC supplied live broadcasts at some 49 different venues across the UK on the same day, culminating with a tie-in to all the sites for a real-time rendition of "Perfect Day".
The Monday evening Bennett show was televised live on BBC One. A festival in London was also televised, and live concerts by Paul Weller and George Benson (in Belfast) were broadcast on BBC Radio. All four were Canegreen shows.
At 10 p.m., the BBC sent "Perfect Day," sung by various artists - including Lou Reed from his New York apartment - each doing different lines, to the 49 sites around the UK. There were also televised shots of each of the sites during the song.
"The show finished at 9:30, a good half-hour before the Perfect Day moment, so the BBC put on an emcee to keep the crowd amused," Hughes said.
Bennett and Krall, slated to sing the "Perfect Day" as a duet, couldn't make it due to an early flight the next morning, so the Leeds Castle audience sang it instead.
"The audience was perfect, the bands were perfect, and the weather was perfect - well almost," Hughes said. "The sound was perfect. In fact, it was a 'Perfect Day.' "



By clicking here you can have product information sent by mail or e-mail us with your questions and comments. Thanks for stopping by!




Home - Meyer News - The Products - Sound Lab - Inside Meyer - Spanish WebSite




Produced by Meyer Sound Laboratories
Copyright © 2000 Meyer Sound Laboratories
All rights reserved